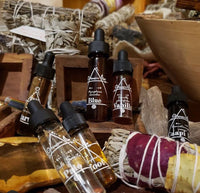 Alchemical Medicine: Herbal Spagyrics
If you are looking for a revolutionary way to use herbal medicine that requires no prep time, creates a potent dose in a few drops, and contains the fullness of a plant in its expression, then you have found your medicine! Welcome to our vast line of Herbal Spagyrics, a new way to connect with a plant stemming from old roots.
What is a spagyric?
An herbal spagyric refers to a preparation created by extracting the essential oil, mineral salts, and spirit of a plant, then combining them in specific ratios.
Why use a spagyric?
One tiny bottle of herbal spagyric contains an elevated fullness of the plant. Rumored to be 100-400 times stronger than a regular tincture, you only need a few drops to make a potent dose. The medicine of spagyrics can last in your system for up to 72 hours due to the penetrating nature of the salts. The medicine is intended to be physically and spiritually transformed to one of its most potent forms.
These are just a few reasons why Herbal Spagyrics are a fantastic alternative or co-creator for other herbal treatments. Check out our line of Herbal Spagyrics today, as well as our other alchemical preparations! 
Explore the depth of what your engagement with a plant could hold.
"This place is legit awesome! I won't ever buy tinctures online again. I was able to create two tinctures for wellness specific for my needs. The owners are incredibly knowledgeable and genuinely caring people. The building is filled with all kinds of interesting items, herbs, tinctures, stones, books, tea just to name a few. They have a massage/float/yoga area. Such a gem of a store, great for holistic health."

Bridey J, Walnut Creek CA
"Personally my new favorite store, the largest selection of herbs I've ever seen, extremely knowledgeable and friendly staff, remarkable pricing and a wonderful atmosphere. Will be returning many times."

Jaden W, SLC UT
Absolutely LOVED this place! All the way up the plant decorations outside into opening the door with a hint of sage burning & a BUNCH of books! Then right around the corner you will see everything you will possibly need from her Apothecary to yours! Super home-y zen feeling soon as you ever & a super cute nice lady welcoming you to her shop!

Krista R, Las Vegas NA
Contact Us
At Natural Law Apothecary, we value our customer feedback. Help us co-create the best experience for you by reaching out with anything you might need! We welcome suggestions, comments, questions and more. Our doors and ears are open to you!
Phone: 801-613-2128
Email: naturallawapothecary@gmail.com
Location
Our store
423 S 600 W
Salt Lake City, UT, 84101
Monday/Friday/Saturday: 12:00pm - 8:00pm
Tuesday/Wednesday/Thursday 4pm-8 pm
Sunday: Closed
Yoga, Herbal Classes, Sound Baths and more.
Check out our many events! We host classes, yoga, sound baths, meditations, and more, supported by our independent practitioners. Support your local community by joining in!
You can see our events posted on Facebook at Natural Law Apothecary.
Explore Events
Disclaimer
No products on our site are meant to diagnose, treat, cure or prevent any diseases. The statements presented on our site are designed for informational and research purposes only, and are not approved by the FDA. Please consult your primary physician before using any herbal preparations.